Back in 2005 sitting in South Korea and copying some data from my Asus laptop my hard drive gave up without giving any notice.   I had no data of any sentimental value or otherwise on it, but the HDD quit working without a warning was a big surprise to me.
At that point I bought Fujitsu-Siemens Amilo M3438G (Intel Pentium M 760 2GHz Dothan, 2 GB memory, NVIDIA GeForce Go 6800 – 256 MB VRAM, 17" inch 1440 x 900-pixel WXGA, with 2x120GB HDD RAID1 mirror copying and DVD+/-R writer).
The main reason was to have Raid 1 – mirror image copying on the two identical hard drives. If one fails, the other hard drive will have full copy of the data.  Surprisingly enough that the laptop traveled with me all over the world many times (as a checked in luggage as well) and its still fully functional to this date – eighteen years later.
Later on I discovered Taiwan brand "Clevo". I bought many of them over the years for me and my wife (P775TM1-G , P650RE-C, W150HNQ,  W870CU, etc). I ended up spending about $10 K USD on the laptops from Pro-Star (now bought by Sager Notebooks).  While the 17'' RAID versions were O.K. (but not as robust as Fujitsu-Siemens), 15'' versions were lasting about 3 years only.
Recently my old W870CU CMOS battery gave up and I was looking how to replace it, as service manual has no instructions.
I wrote to Pro-Star support: "My W870CU battery is dead. I purchased a replacement but unable to locate the CMOS battery in W870CU. Could you kindly help?"
Wesley K (Pro-star aka Sager Notebooks) replied: "I believed this model you need remove the motherboard to see it.   sorry….".  Wesley K did not even bother to use my name in reply, just whatever auto reply suggested to him.
My response: "Hello Wesley, I appreciate your response. Do you have any specific instruction on the battery whereabouts and the motherboard removal process? I would sincerely appreciate some clarity, if I can."
Wesley K (Pro-star aka Sager Notebooks) replied: "no, sorry….. too long…..".
It was time to say good bye to Pro-Star, Sager Notebooks, Wesley K, Eddie Yuan and the rest of the merry company. The main reasons to go away from Pro-Star (Sager notebooks):
Awful customer support by Pro-Star (Sager Notebooks).
I don't travel with the laptops anymore and 17'' laptop with RAID 1 weights a lot – 10 lb or 4.4 kg.
The notebooks aren't upgradeable by and large.
The notebooks are not maintenance friendly and noisy.
I am paying for notebook's screen which I hardly use these days.
I started looking for a suitable and cost-effective replacement to my Pro-Star (Sager Notebooks) Clevo laptops.
My main criteria were:
RAID 1 (mirror copying).
Low noise or a quiet personal computer.
Upgradable going forward.
Initially I was looking at variety of fanless models but my perception was that they are quite slow due to passive cooling limitations.  I opted for a computer PC case from "Be Quiet" company – Silent Base 802 with air cooling.   To enable future PC upgrades here is what I considered:
Quality power block with enough extra power. There are plenty of online Power Supply Unit (PSU) calculators. For my configuration recommendation was 600 Watts, but if I to upgrade for the latest video card I need to have 900 Watts. I opted to purchase 1,000 Watts platinum PSU. Platinum means that its efficient and extra spare power means that it may run at cooler temperatures. The PSU I choose is also semi-fanless – when the power supply is equal to or less than 30% or 40% load, the power supply enters a silent state and the fan is turned off. It also comes with 10-year warranty.
Latest socket and chipset. The battles are still hard between Intel and AMD fans.  I chose AMD and AM5 socket, which AMD promises to support until at least 2025.  In practical terms it means that in three years' time I will buy new AM5 processor. At that time it will be cost efficient, as the socket is about to retire.
Graphic card. I don't play any games which typically drive the demand high performance. However, I occasionally use graphic process as converter.  I also opted for a semi-fanless card, to minimize the noise.  I can upgrade the card in the future if I need to.  
RAID1. I like and need RAID1. The South Korea 2005 story was recently complemented by sudden failure of Seagate Rosewood 2.5″ (ST2000LM007). As I had RAID I just rebuilt the volume.  Premature failure is a major issue. I read that a lot of customers present these disks after owning them for only a few weeks or months. Secondly, the typical failure found in these HDDs is relatively severe. The HDDs can be highly degraded with bad sectors, and have complex firmware faults. Moreover, in the majority of cases, the HDDs arrive with failure of the head-assembly. In short, these disks degrade over a relatively short period compared with other HDDs.   There are also laptop limitations, as most of the laptops can only take 9.5mm thick drives and not 15mm. 9.5mm HDD has maximum capacity of 2 TB.   PC block will take normal 3.5 inch HDD with capacity up to 20TB.  Conventional HDD still costs considerably cheaper than a Solid State Drive. 4TB Seagate costs $76, while 4TB SDD is about $280.  With RAID 1 those costs are double.  
I did my research online looking at many different companies and I choose Quiet PC Leviathan Z4 ATX Gaming PC.   The company support was great. As an example, initially I selected external  wireless card (there were some customers complaining about WiFi for the motherboard I chose). Andy Ford from QuietPC contacted me and re-assured that the built WiFi is working just fine, so I saved $50 on the card. 
Second example, was the the PC case I chose. It has a tempered tinted glass window which offers a perfect view of the components inside PC. In can be inverted, so the window is on the right-hand side. Quiet PC accommodated it as well. This is what I call custom built and customer-oriented approach.  The block arrived on time with the great packaging and thorough instructions.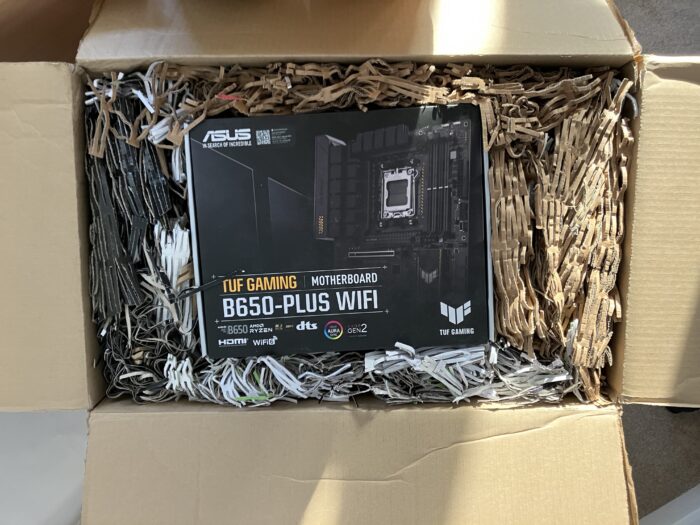 Picture 1. Superbly safe packaging.  Mind the weight  Silent Base 802 Window Black gross weight alone is 13 kg!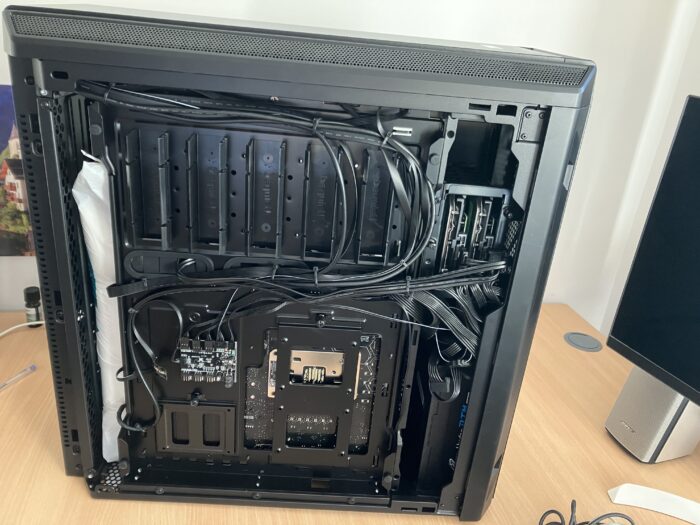 Picture 2.  QuietPC Leviathan Z4 ATX Gaming PC . Some companies charge you for "cable management". This company does the quality built for free.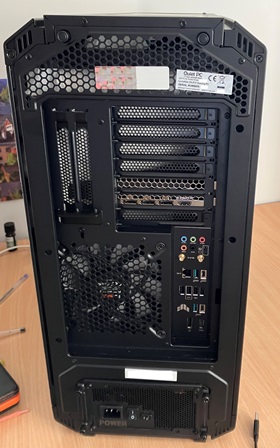 Picture 3. QuietPC Leviathan Z4 ATX Gaming PC back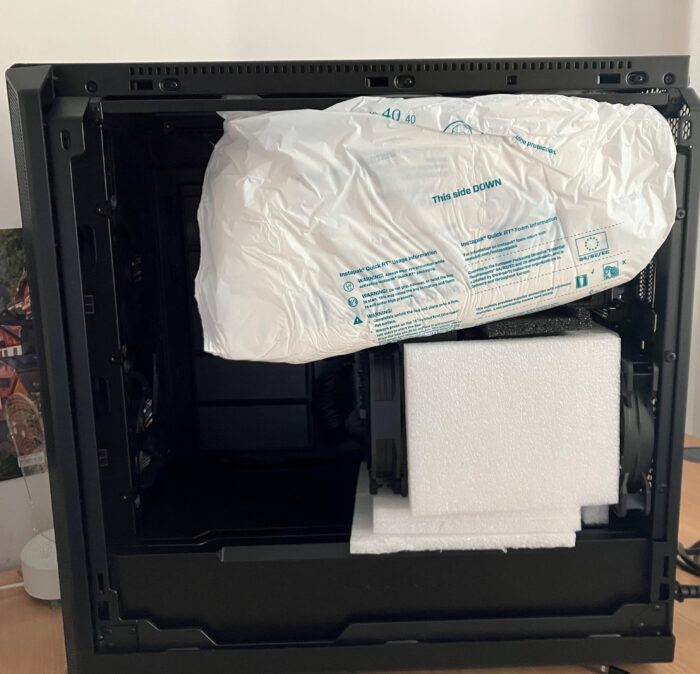 Picture 4. QuietPC Leviathan Z4 ATX Gaming PC cool packing for safe transportation.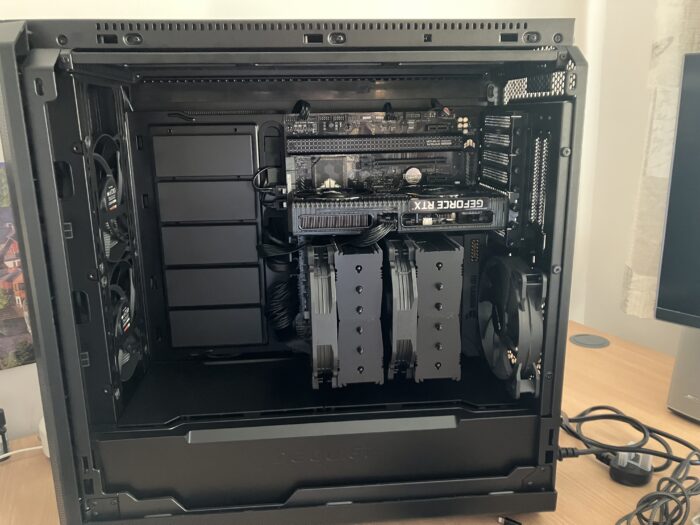 Picture 5. QuietPC Leviathan Z4 ATX Gaming PC unpacked and ready to go.
Here is Quiet PC Leviathan Z4 ATX Gaming PC configuration I bought :
be quiet Silent Base 802 Window Black PC Case
ASUS TUF B650-PLUS Gaming WIFI AM5 ATX Motherboard
AMD Ryzen 7 7700X 4.5GHz 8C/16T 105W 32MB Cache AM5 CPU
Corsair Vengeance DDR5 32GB (2x16GB) 5200MHz Memory
Noctua NH-D15 chromax.black CPU Cooler
Noctua NT-H2 Pro-Grade Thermal Paste, 3.5g
Palit GeForce RTX 3060 DUAL 12GB Semi-Fanless (2 slot, 550W)
FSP Hydro PTM Pro 1000W Semi-Fanless Modular PSU, 80+ Pla????num OEM
Quiet PC IEC C13 UK Mains Power Cord, 1.8m (Type G)
Samsung 980 PRO 1TB PCIe 4.0 M.2 NVMe SSD (7000/5000)
Seagate BarraCuda 4TB 3.5in Hard Disk Drive HDD
Seagate BarraCuda 4TB 3.5in Hard Disk Drive HDD
Microsoft Windows 11 Pro 64-bit
Windows Backup 32GB Pendrive – restores to factory defaults
Quiet PC Free Silver Warranty (2 years labour and parts)
I spent $2,700 USD ( including shipping) on a new PC block and in three-four years' time I need to spend additional $1,200 to get it up to speed again (It can be less if I don't need to upgrade the video card). This is much cheaper than to buy a laptop every 3-4 years as used to do from Sager Notebooks (Pro-Star).